Regular price
Sale price
$8.00
Unit price
per
Sale
Sold Out
The Patriot Shave Freedom MAX handle delivers a smooth shave with the most secure grip possible.
Ergonomic shape with multi-point, textured rubber inlays for maximum grip
Easy-to-use, push-button blade attachment system
Compatible with ANY Freedom series blade (men's or women's)
BONUS!  Complimentary blade-cover included with each handle
Note:  Freedom handles and razor blade cartridges are not compatible with our 1776 series razors.
VIEW FULL DETAILS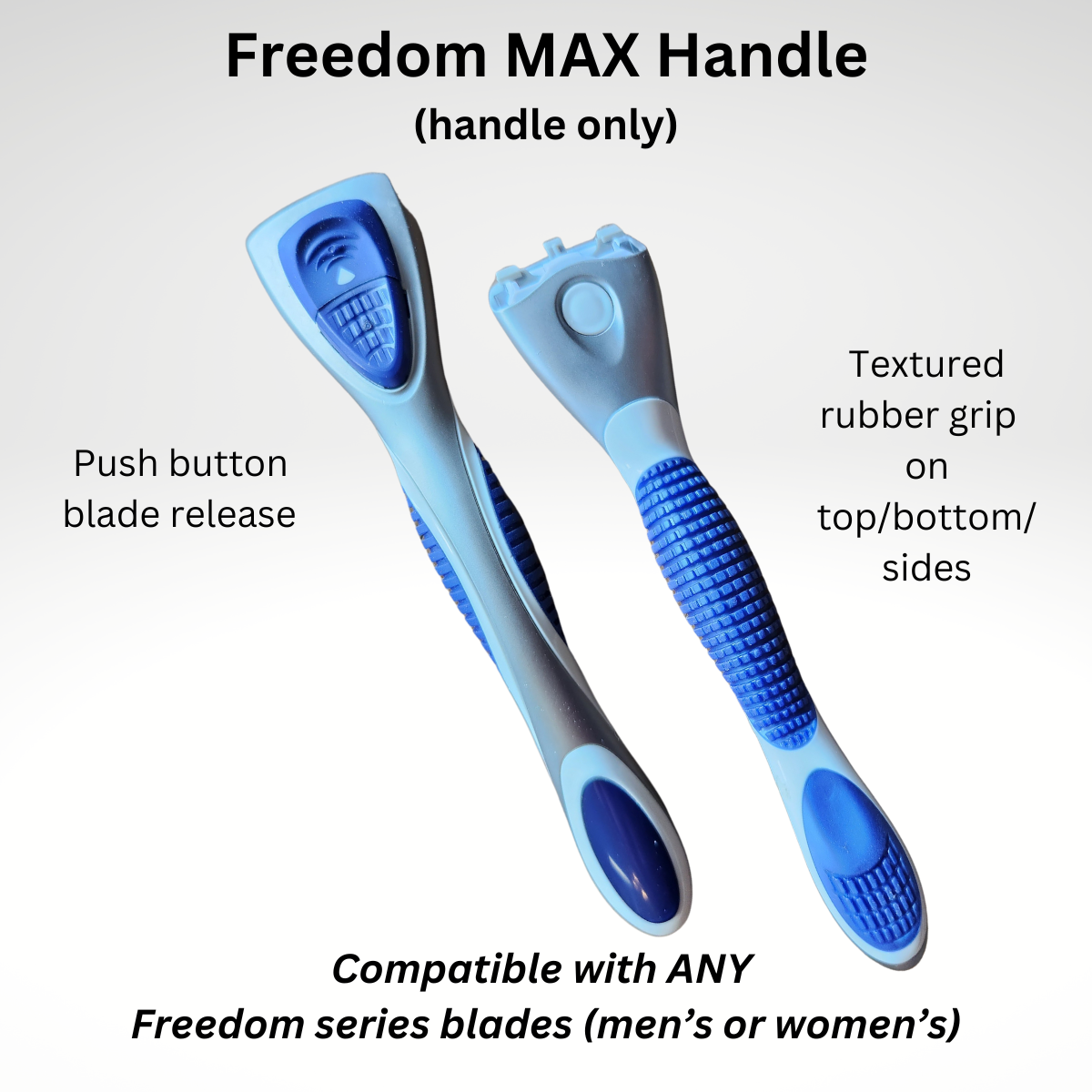 "Great product and superb customer service. Customer for life."
"Great razor, looks good, feels good and shaves good. What more could I ask. Highly recommend."
Better Grip when wet
Opted to try the Freedom MAX handle in place of the standard. The standard proved difficult to hang onto when wet. The Freedom MAX handle is a definite improvement.
Switch to Patriot Shave NOW!
I was tired of spending (a lot of) money on razors made by companies that hate me. I tried switching to store brands, but they just didn't give me the quality of shave I wanted. Walgreens had a four blade razor for less, but the trimmer, well, didn't trim. It scraped. Then I found Patriot Shave. They have an excellent product that gives you a great shave at a great price. And they share my values. Thanks Patriot Shave!
I purchased the Freedom Razor from Patriot Shave and have really enjoyed the results. The only issue I had was the handle, while constructed well it seemed to slip in my hand while shaving. I mentioned this to them and Kyle responded within a day and before I knew it they had sent a new handle that feels much better. I really appreciated the response and service as I was not looking for or expecting a new handle. Will definitely do business again, thanks guys…🇺🇸🇺🇸
Replacement Handle
My first handle was not working properly. The guys at Patriot Shave responded quickly, and they replaced the defective handle with not one, but two handles. Thank you, Patriot Shave!
Great handle
Sturdy and non slip. Great product.
I've been shaving for more than 50 years. This is by far the BEST handle I've ever held in my hand. Congratulations to the design team to have nailed it!
Fast, Low, Flat Rate Shipping

99% of our orders ship within one business day (most same day). We charge a low, flat rate of just $3 on orders under $30.

We know Patriots work hard every day, and we do the same for you!

Rooted In Tradition

Patriot Shave exists to do business with Traditional Americans who love Traditional America. Shop with a company that respects your values, not a woke corporation that despises you (but is all too happy to take your hard earned money)!

Satisfaction Guarantee

As "Patriots serving Patriots", we stand behind our products and want you to be happy with your Patriot Shave.  If for any reason you are not satisfied with your shave, please contact us and we will be glad to send you another blade option, at no charge.