Regular price
$17.76
Sale price
$16.00
Unit price
per
Sale
Sold Out
Note:  Switching from Harry's OR Gillette?  The 1776 is probably NOT the razor for you -- you will want our Freedom Forged 4-blade Starter Kit for a premium shave on par with these brands.  (3-blade cartridge also available in our Freedom Series).
Like America, "1776" started it all for Patriot Shave. Our first razor, the 1776 gives you a quality shave at an affordable price - at less than $1.88 per refill, these blades are easy on the wallet for the budget-minded Patriot who still demands a quality shave.
Handle (1 included): weighted, blue alloy handle with rubber grip inlays and "1776" logo
1776 3-blade cartridges (3 included):  Smaller cartridge profile for easy shaving up close to nose, ears and sideburns.  

Note:  if have a thicker beard and/or tend to clog your razor blades, we recommend our Freedom 3-blade as a better choice
BEST FOR
You want a quality shave at a low price.  You are upgrading from a 2- or 3-blade, or store brand razor.   You prefer a "fixed head" handle that does not have a lot of "play" in it.  
SHAVE TYPE
Smooth, with a firmer feel.  The 1776 handle does not pivot, but the blade cartridge does flex.
***
A quality shave at an affordable price? You bet.  A Patriotic alternative to other razor companies who love taking your hard earned $$$ but despise your values? No doubt.
Shop with a razor company that respects your values and that supports traditional values, not "woke" causes!  
VIEW FULL DETAILS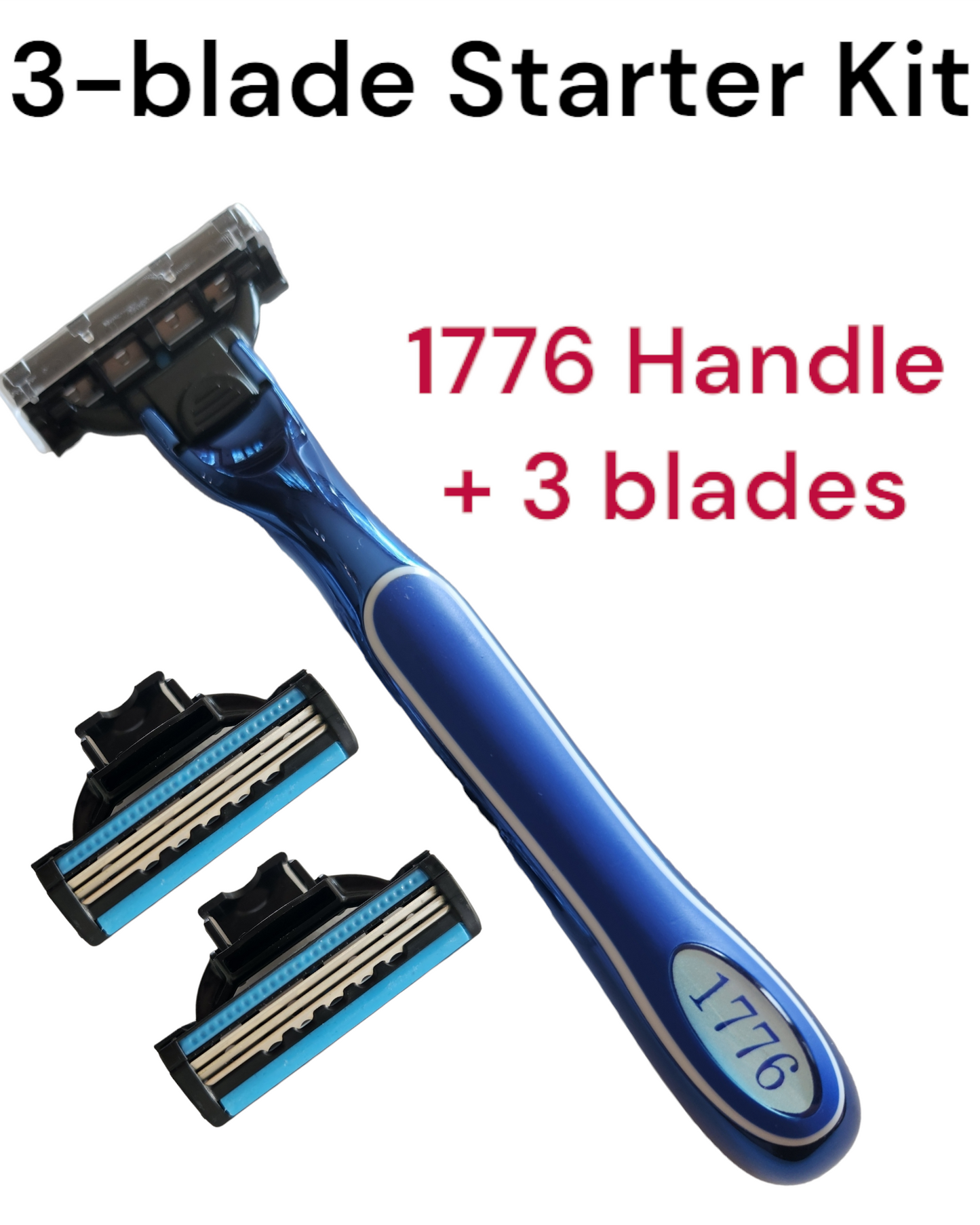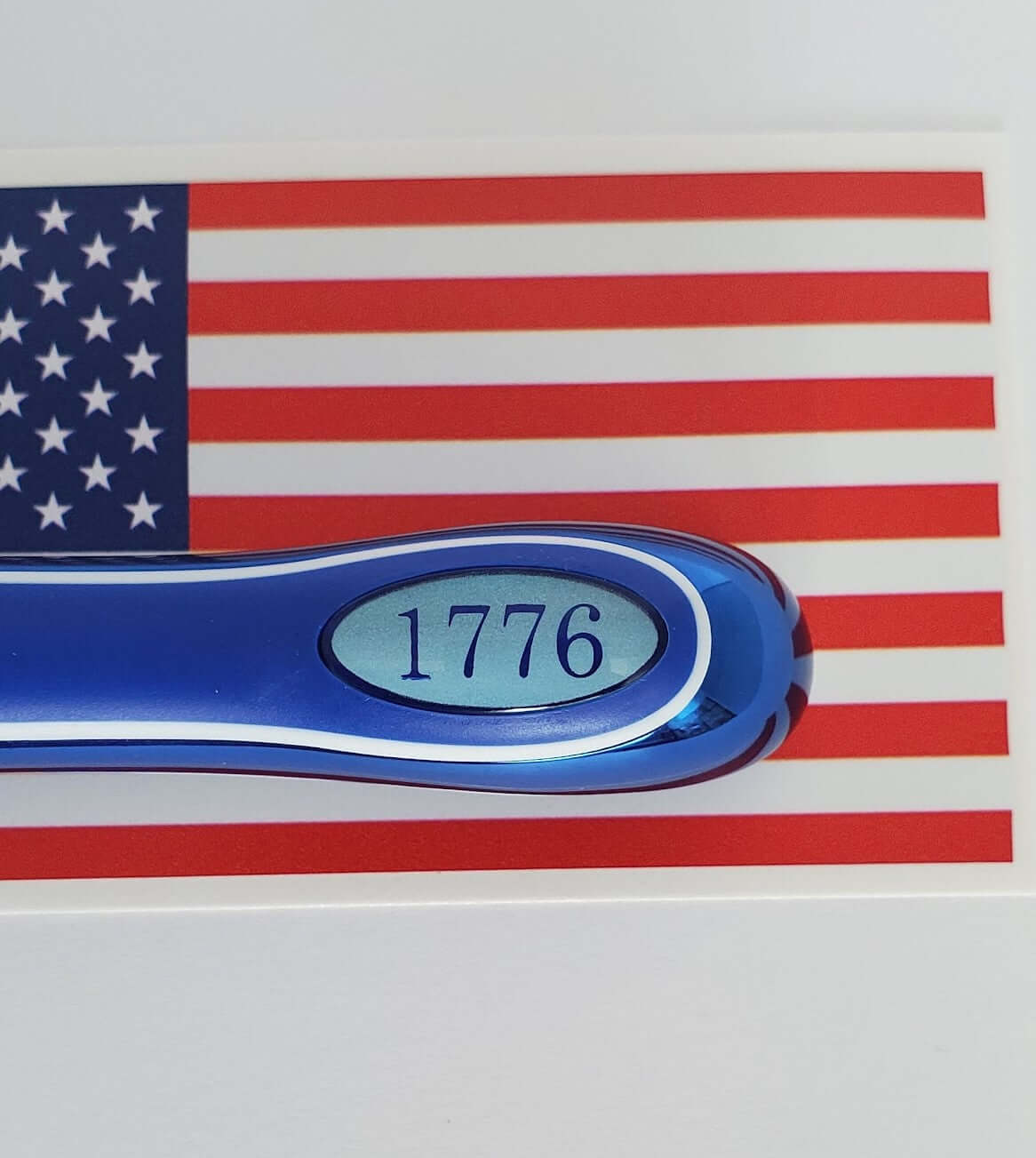 "Great product and superb customer service. Customer for life."
"Great razor, looks good, feels good and shaves good. What more could I ask. Highly recommend."
razor trial
Not anywhere as close or comfortable as my Harry's
Hello Sir. When switching from Harry's we always recommend without hesitation our 'Freedom' series razors with the 4-blade razor heads because it is our comparable product to Harry's. Our customer support team will follow up with you via email to see if we can make this situation right for you. We got your back on this!
Great customer service !
Not understanding there were two types of cartridges available. I ordered the wrong ones and they sent me the right ones immediately
Quite happy with starter kit---except soap was out of stock and omitted. Perhaps you should start substituting an equivalent product after, perhaps, an email asking to do so.
very satisfied. great shave
Could be sharper, had to shave 3 times to match previous razors shave.
Great to buy from a company that loves America!
First, I love what the company stands for. The 1776 razor and blades work great for me and give a nice quality shave. I can't imagine buying store bought blades again.
Fast, Low, Flat Rate Shipping

99% of our orders ship within one business day (most same day). We charge a low, flat rate of just $3 on orders under $30.

We know Patriots work hard every day, and we do the same for you!

Rooted In Tradition

Patriot Shave exists to do business with Traditional Americans who love Traditional America. Shop with a company that respects your values, not a woke corporation that despises you (but is all too happy to take your hard earned money)!

Satisfaction Guarantee

As "Patriots serving Patriots", we stand behind our products and want you to be happy with your Patriot Shave.  If for any reason you are not satisfied with your shave, please contact us and we will be glad to send you another blade option, at no charge.