Regular price
Sale price
$12.00
Unit price
per
Sale
Sold Out
Part of our curated collection, this shave soap is handcrafted in the USA by our friends at Heritage Hill Shave Company. 
Unique, subtle scent

 built around a blend of tobacco, jasmine, orange and fir needle

3 oz. plastic container with screw-on lid that will last for 1-3 months depending on shave frequency
Tallow-based formulation generates a creamy lather and smooth glide on the face
Washington: Named after a man that not only commanded an army but every room he ever entered. Washington is comprised of Tobacco Bay and Jasmine with a solid balance of Patchouli, Sweet Orange and Fir Needle. Walk away from your finest shave and command the day with Washington.

Scent Notes: Tobacco Bay, Jasmine, Patchouli, Sweet Orange, Fir Needle
Ingredients: Beef Tallow, Stearic Acid, Organic Shea Butter, Kokum Butter, Avocado Oil, Castor Oil, Potassium & Sodium Hydroxide, Distilled Water, Glycerin, Essential Oils, fragrance Oil
(razor and brush not included)
VIEW FULL DETAILS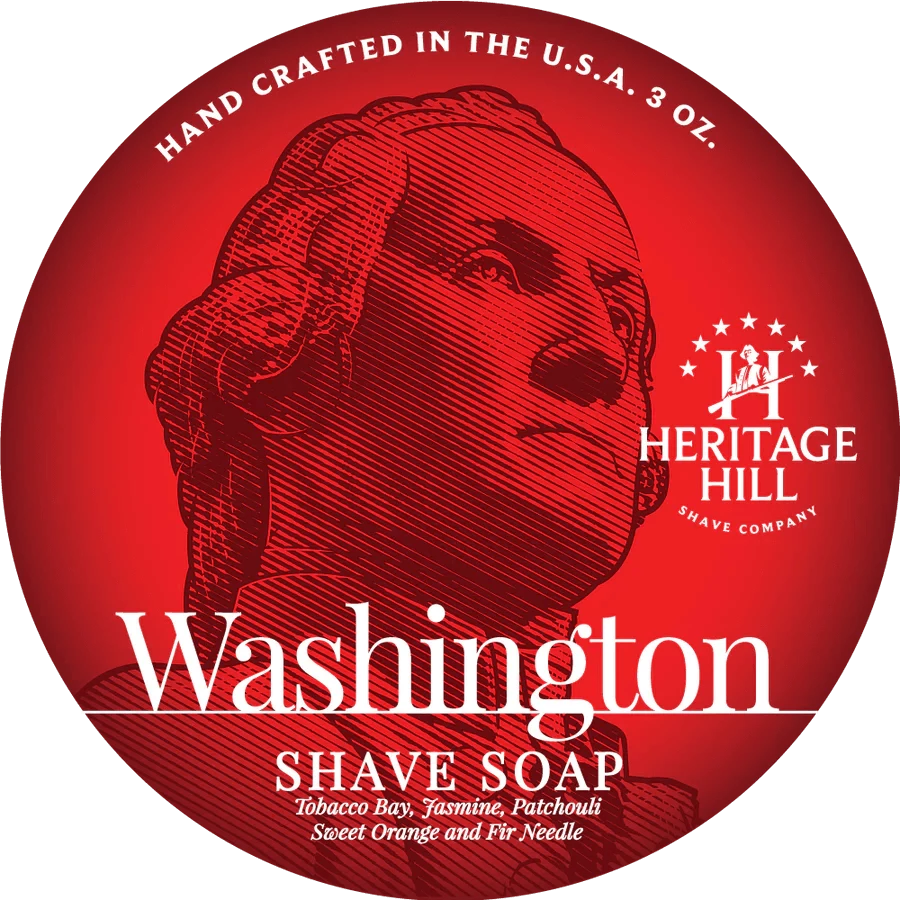 "Great product and superb customer service. Customer for life."
"Great razor, looks good, feels good and shaves good. What more could I ask. Highly recommend."
New to safety razor
I am new to safety razor shaving and decided to purchased 3 shave soaps. Washington, Midnight Ride and John Paul Jones. I have also purchased another brand in a tube that my father in law recommended. I tell you what. I didn't get a razor burn from any Heritage Hill soaps! So happy I bought 3 (free-shipping), because for those who are into fragrances and colognes will agree that depending on the season the scent profile can change. With that said I enjoy the scent of the Washington soap during the winter mornings. Midnight Ride is calming and I enjoy this soap scent during the evening. (I am actually considering purchasing the cologne it is inspired by.) John Paul Jones is a year round barbershop scent to me that is a safe gift purchase. In conclusion I'd like to say that these three soaps are well thought out and are not linear. There's depth to each scent that I enjoy especially when reading the scent profile of each. Hopefully this review will help those who are shopping.
Great Shave Soap
This is the second time I have ordered the shave soap. The first one I ordered was the John Paul Jones scent and the second one I ordered was the Washington scent. The shave soap is great! I am able to get a very close shave without any nicks or cuts. It leaves my skin feeling clean and soft and I really like the scents I have tried. I will continue to use the shave soap. I am very happy with this product!
Love the shave soap
Smells really good. I got the Washington shave soap and love the smell.
Fast, Low, Flat Rate Shipping

99% of our orders ship within one business day (most same day). We charge a low, flat rate of just $3 on orders under $30.

We know Patriots work hard every day, and we do the same for you!

Rooted In Tradition

Patriot Shave exists to do business with Traditional Americans who love Traditional America. Shop with a company that respects your values, not a woke corporation that despises you (but is all too happy to take your hard earned money)!

Satisfaction Guarantee

As "Patriots serving Patriots", we stand behind our products and want you to be happy with your Patriot Shave.  If for any reason you are not satisfied with your shave, please contact us and we will be glad to send you another blade option, at no charge.