Regular price
Sale price
$12.00
Unit price
per
Sale
Sold Out
Part of our curated collection, this shave soap is handcrafted in the USA by our friends at Heritage Hill Shave Company. 
Unique, subtle scent

 (see scent notes below)

3 oz. plastic container with screw-on lid that will last for 1-3 months depending on shave frequency
Tallow-based formulation generates a creamy lather and smooth glide on the face
Sovereignty: On December 16, 1773 ,disguised in makeshift Indian attire, the Sons of Liberty and other colonialists boarded three ships in Boston Harbor with payloads of tea. In protest against the Crown's Tea Act (tax on tea for colonies), they proceeded to dump 90k pounds of tea into the harbor destroying what would be in today's money, $1.7 million of product. ——-Whether you "like your coffee in the morning and tea at night" enjoy the rich scent of black tea with Sovereignty anytime night or day!
Scent Notes: Black Tea, Bergamot, Cedar, Jasmine, and Patchouli  

Ingredients: Beef Tallow, Stearic Acid, Organic Shea Butter, Kokum Butter, Avocado Oil, Castor Oil, Potassium & Sodium Hydroxide, Distilled Water, Glycerin, Essential Oils, Fragrance Oil
(razor and brush not included)
VIEW FULL DETAILS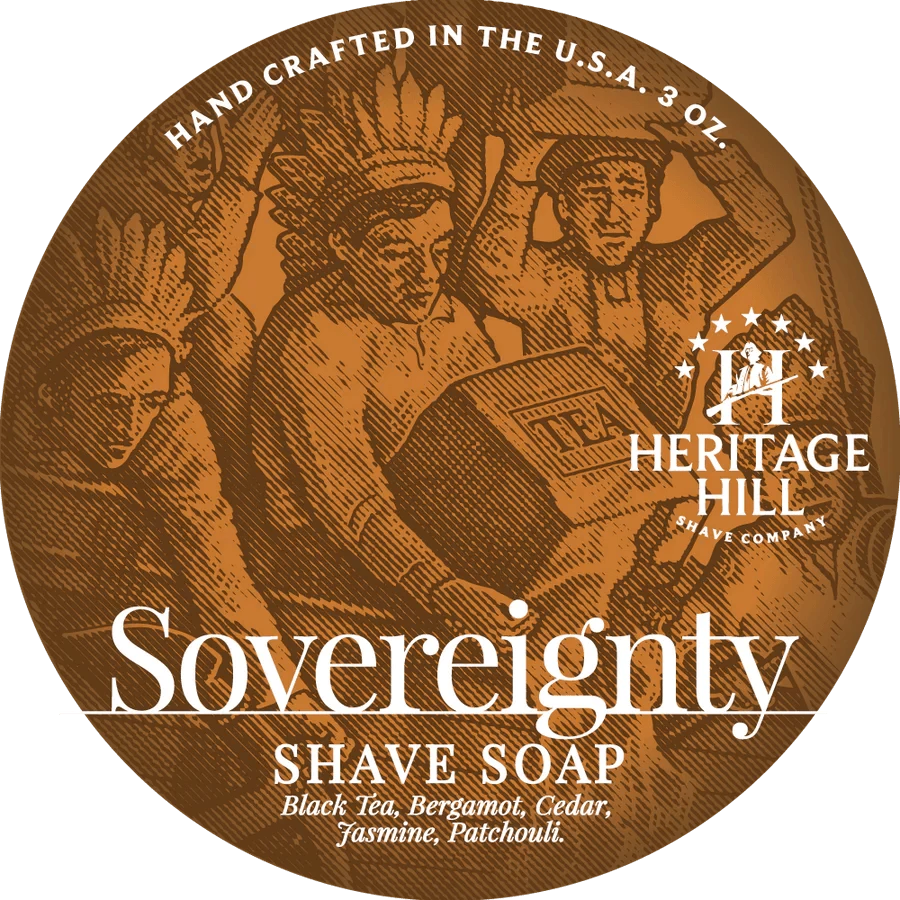 "Great product and superb customer service. Customer for life."
"Great razor, looks good, feels good and shaves good. What more could I ask. Highly recommend."
Great Shave!
Just used the shave soap and will say that it gave a great smooth shave. Held the brush well and I am very pleased to have found your company.
Neater...Better...Grandpa is right, again
I have long since quit buying shave cream and have been using the tail-end bars of Duke Cannon soaps, when they get too small to handle effectively. But today I used Patriot's Heritage Hill shave soap (Sovereignty) and soap brush. I reminded myself of my grandfather. Maybe this made a difference, I'll continue to experiment with soaps. But the bottom line is that I came away from the sink and mirror with a very satisfactory, boot-camp close shave, smelling like someone from Paris (except freshly showered) and with very fond memories. Now if someone can get the website functioning like their products, I feel things will just get better.
Great shave soap!
Lathers quickly and provides nice glide for shaving. Scent is nice and not overpowering.
Fast, Low, Flat Rate Shipping

99% of our orders ship within one business day (most same day). We charge a low, flat rate of just $3 on orders under $30.

We know Patriots work hard every day, and we do the same for you!

Rooted In Tradition

Patriot Shave exists to do business with Traditional Americans who love Traditional America. Shop with a company that respects your values, not a woke corporation that despises you (but is all too happy to take your hard earned money)!

Satisfaction Guarantee

As "Patriots serving Patriots", we stand behind our products and want you to be happy with your Patriot Shave.  If for any reason you are not satisfied with your shave, please contact us and we will be glad to send you another blade option, at no charge.