Regular price
Sale price
$18.00
Unit price
per
Sale
Sold Out
SHAVE WITH FREEDOM.  A no-frills, affordably priced women's 3-blade razor. Auto-ship option now available.
3-blades + Aloe + Vitamin E glide strip
Open style back for easy rinsing
Packed in convenient storage trays (4 blades per tray)
VIEW FULL DETAILS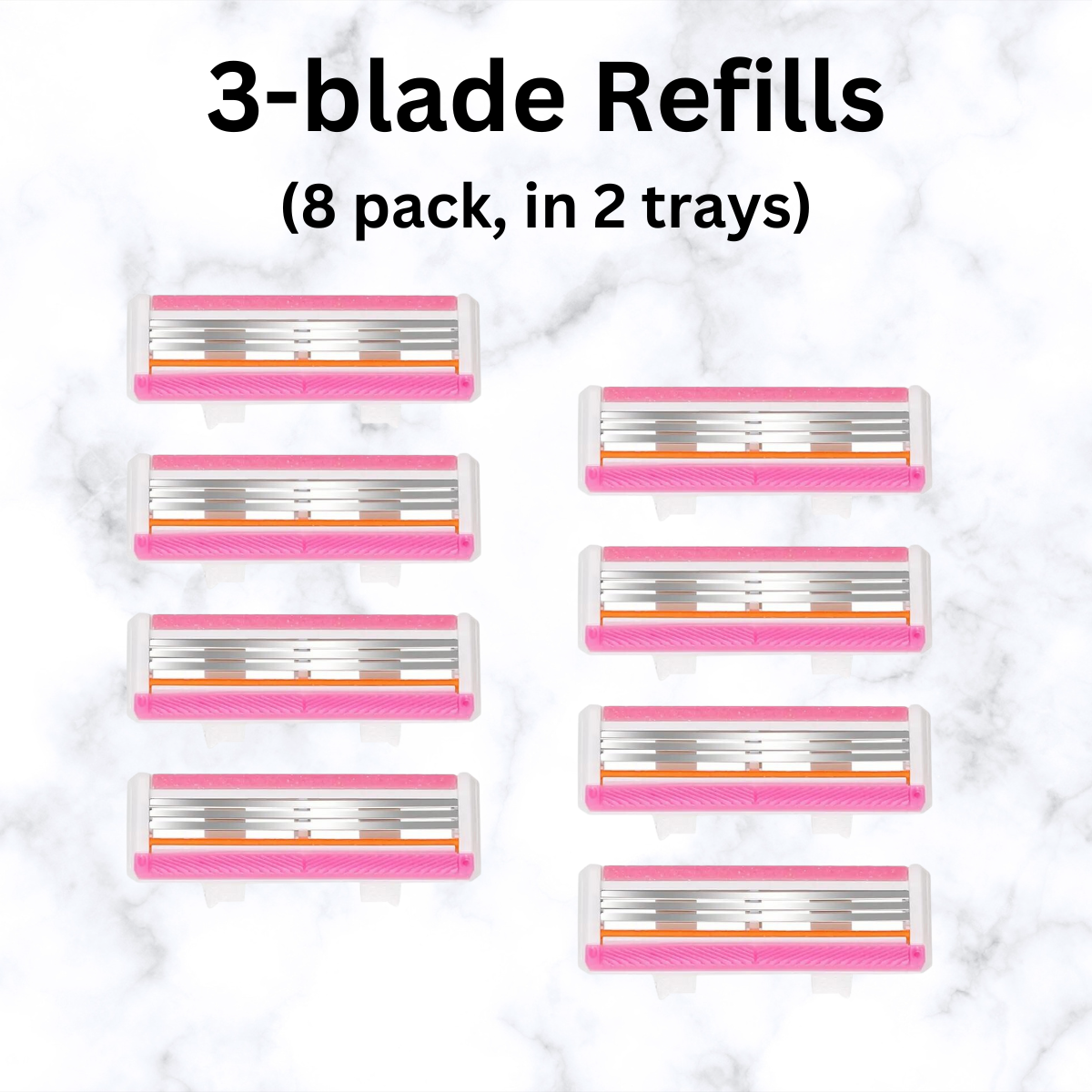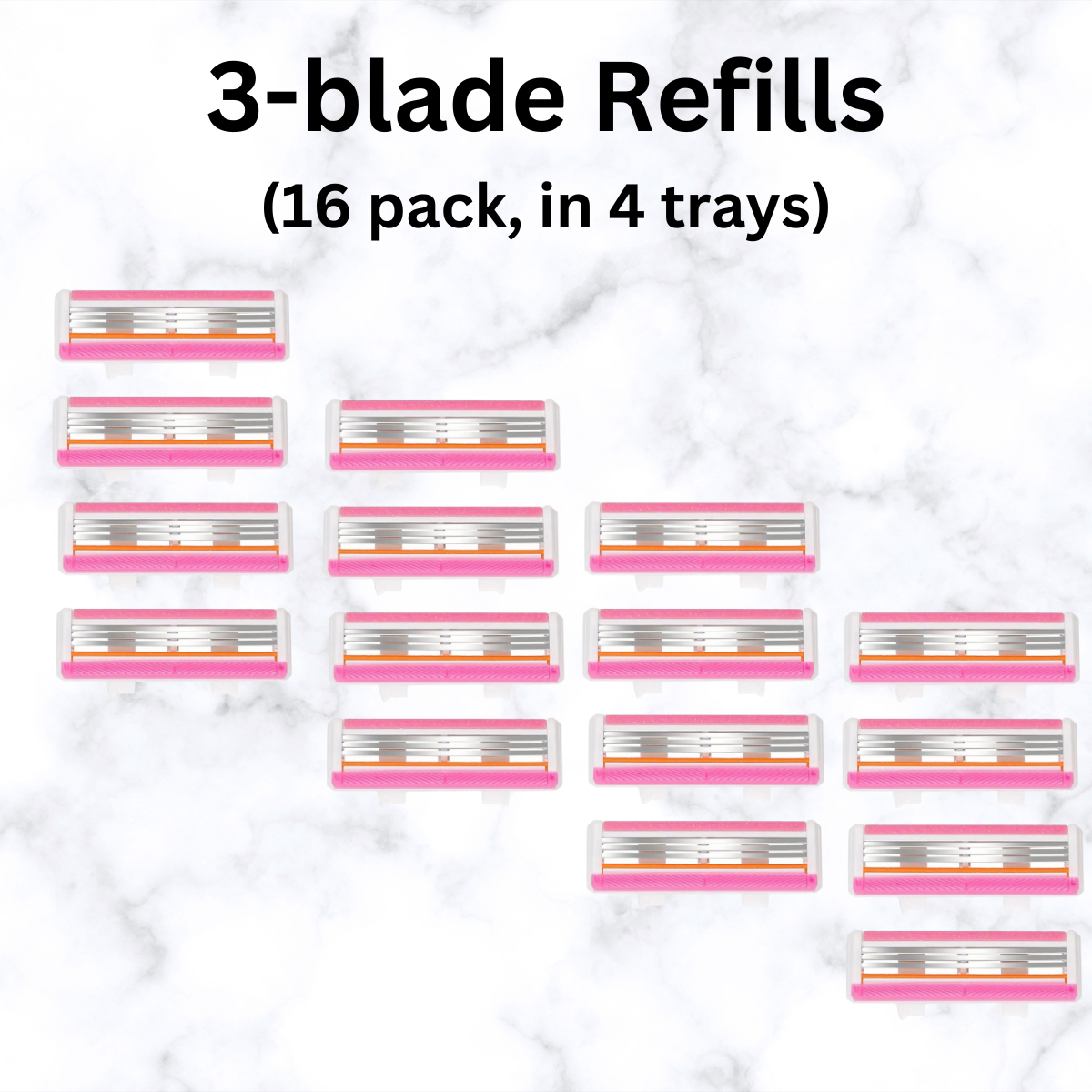 "Great product and superb customer service. Customer for life."
"Great razor, looks good, feels good and shaves good. What more could I ask. Highly recommend."
Great razors
Been using these razors for a few weeks now and have not had this smooth of a shave ever. Even on sensitive areas it is gentle but smooth and hardly ever causes nicks or razor bumps. The aloe strips are a nice addition. Definitely recommending to other women.
Excellent razor!
I have dark, course hair, and this razor is awesome!
I love these blades. I wish you offered a subscription option so I didn't have to think about reordering
Hi. We just rolled out subscription/auto-ship for the Lady 3-blades this week, you may sign up when ready and not have to worry about re-ordering any more. Thanks for your good words and support.
Four Blades Are Perfect!
I ordered the 4-blade razors when they were back in stock. While waiting for them to arrive, I purposely put a five day growth on my face so that I could get a 'true' perspective on just how good the 4-blade shaver would perform. My experience wasn't good at all...it was GREAT! I really like the 4-blade over the 3-blade because, for me, that extra blade helps provide a clean smooth stroke each time. My beard / whiskers can get pretty thick and stubborn, but the 4-blade cuts through all the stubble the first time and then does a really great cleanup with any following strokes. Overall, I'm completely satisfied and very happy with the results. During and after my shave, the blades clean up really nice without leaving a bunch of residue between the blades. My next 'testing', if you will, is to see how many shaves I can get out of a 4-blade. Of course, my mileage may vary from what other's experience, but if I can get two to three weeks out of each blade, I'll be a happy camper. The sculpturing blade on top is very nice for those 'in close' areas that are hard to reach with just the razor. Patriot Shave blades are the way to go...for me, anyway.
Best razor I have ever used!
Excellent quality and feel of the handle and blades. The shave is so smooth and gentle. I will never purchase another and plan to give as a gift to my daughters and daughter in-laws.
Excellent Razor
These razors are AMAZING! I absolutely love it. Support true Patriots and not these WOKE companies. Thanks Patriot Shave for an amazing product.
Fast, Low, Flat Rate Shipping

99% of our orders ship within one business day (most same day). We charge a low, flat rate of just $3 on orders under $30.

We know Patriots work hard every day, and we do the same for you!

Rooted In Tradition

Patriot Shave exists to do business with Traditional Americans who love Traditional America. Shop with a company that respects your values, not a woke corporation that despises you (but is all too happy to take your hard earned money)!

Satisfaction Guarantee

As "Patriots serving Patriots", we stand behind our products and want you to be happy with your Patriot Shave.  If for any reason you are not satisfied with your shave, please contact us and we will be glad to send you another blade option, at no charge.